Over here in Europe we have somewhat different tank sizes than in the Americas. Biggest tank company on the market is the German firm
Juwel
. I started out with one of their starter tanks, a 60cm 72 liter model, back in 2000. Thank tank is now slowly developing some faults in the silicone so I looked for an upgrade. I managed to find a
Rio 125
model, 81 x 36 x 50 cm 125 liter/33 U.S. Gallon for 50 euros.
Now that may not seem like much but it's a big difference if you see them side by side:
After quite a bit of pondering I decided to remove the internal filter which is factory installed in these. I know that system and the filters work really well but because of the placement in the room it's a bit of an eyesore. It also resonates somewhat with the hood. I'm replacing it with a second hand Eheim 2211 that I got the gunk out and got running again.
This weekend I had some time so decided to start the hardscape: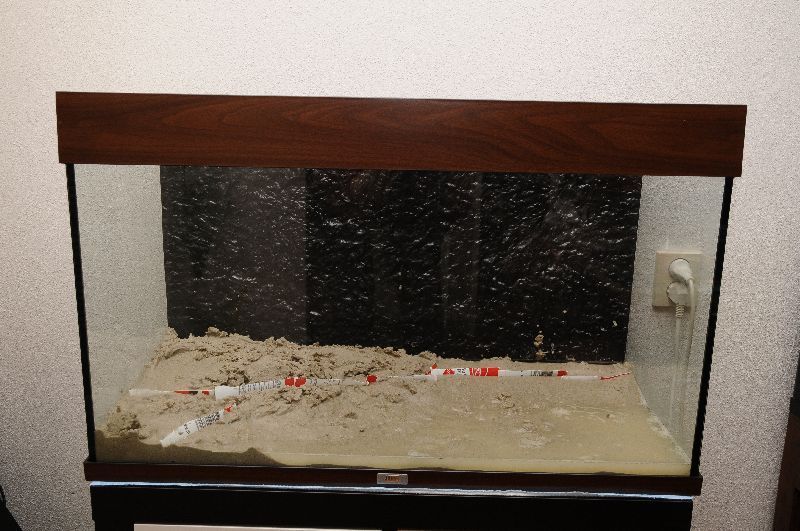 Due to budget problems I did the initial contours using rinsed play sand. I used some yoghurt pots cut to strips to keep it in place.
Covered that using filter sand, lovely stuff! We're on river clay here and the beaches are sand so I had to buy the pebbles. 90 cents got me all those pebbles at the local garden centre.
Next up, some wood:
and another piece of wood that was in the first incarnation of my small tank. It's spend the last few years in the garden and has gotten a lovely weathered finish from that.
The heater on the right is temporary. The filter intake will stay but will be camouflages with plants.
Because I can't part with my existing stock of plants I've decided to reuse most of them.
In may I bought a single pot of Pogostemon Helferi, that has multiplied considerably now. I planted a clump near the wood on the right and used it to camouflage a cave a bit more on the left.
Also on the left some Rotala rotundifolia, Lysimachia nummularia and some vallis.
For the empty space more or less under the wood I want to get an echinodorus of some kind, not sure which one yet. It will have to be something that will thrive in the slightly lower light levels in that part.